* The LMSD Foundation, doing business as the Magic 92.5  Foundation (the Foundation), has received exempt status from federal income taxes under section 501(c) (3) of the Internal Revenue Code (IRC).  Accordingly, donors can deduct contributions made to the Foundation under IRC Section 170.
On-Air Christmas Wish-a-Thon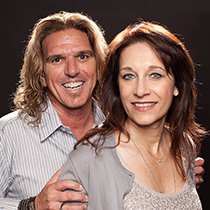 Jagger & Kristi
On December 1st, Magic 92.5's morning show hosts, Jagger & Kristi are asking for your support during their 7th annual Wish-a-Thon. They'll celebrate the Season of Giving by grooving to good music, fundraising for San Diegan's in need and sharing stories of past Christmas Wishes come true!
Cash & Check Donations Also Accepted
Please Make your check payable to:
The Magic 92.5 Foundation
6160 Cornerstone Ct E, Suite 150
San Diego, CA 92121
Please include your name and address with your cash/check so that we can send you a receipt for your donation.
You can also drop off your cash/check donation at the Magic 92.5 studio, located at the address above.
Donating Goods and Products
If you are a business looking to donate goods or products, please let us know! We'll be in contact with you.