3 ½ years olds
53 lbs
American Staffordshire Terrier Mix
$375 adoption fee
Muscles is one of those short stocky little hippo's that is completely adorable!  He grunts and snorts a lot and channels his inner pot bellied pig lol!! He loves to give kisses and be with his people.  You can tell when he is happy because he will chew one of his bones when he is really happy.  He absolutely loves to roll in the grass!  And he does like to go out for walks, but doesn't need to walk very far.
He has a congenital deformity of both front legs.  Basically both front ankles turned out more than they should.  So we had 1 leg fixed surgically 4 weeks ago, and he is having the other leg fixed surgically this week.  He is already getting around so much better with the 1 leg fixed and is so much happier.  We can't wait for his surgery Tuesday so he can be even better!  The leg will heal quickly and nicely, you just can't let him run and jump for 4 weeks, but he can walk on it and so forth.  He is going to be a new boy!
He is completely healthy, neutered, up to date on vaccines, and walks well on a leash.  He is good with kids and truly loves people.  He does seem to be good with other dogs, but we haven't been able to let him run and play with other dogs because of his leg healing, so he hasn't been properly tested yet.
Muscles is impossible not to love!  You cannot help but smile as soon as you see him and hear him!!  His adoption fee is $375.  You can visit him on our website at www.thelittlereddog.org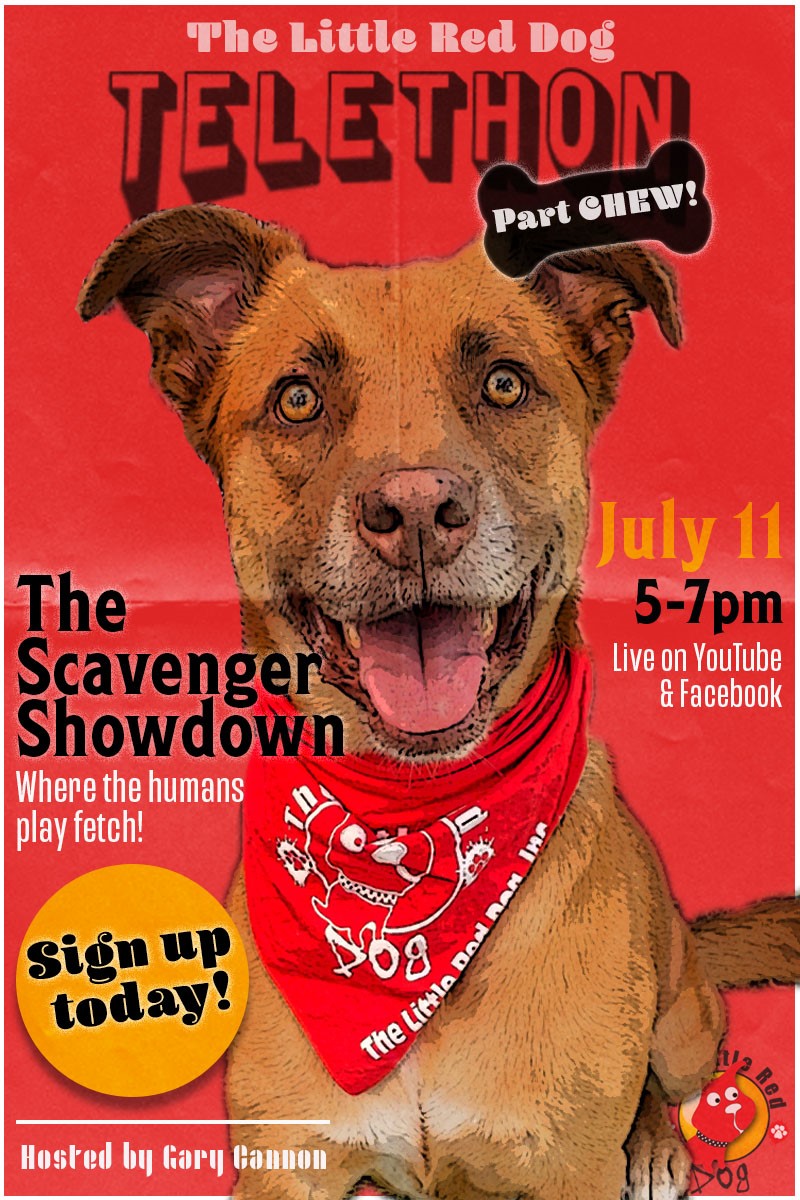 TLRD is hosting Telethon Part CHEW on July 11th from 5pm-7pm PST streaming live on YouTube, Facebook, and Instagram.
Hosted by famous comedian, Gary Cannon, the show will be packed with live entertainment, music, art, and tons of hilarious dog content.
This time, the humans are playing fetch in the Scavenger Showdown: A virtual scavenger hunt competition that will take place during the telethon. Teams are signing up daily and raising money for TLRD.
We are raising money to help families and dogs directly affected by COVID-19. Every day, we are being contacted about owner surrenders, strays, and unwanted puppy litters. Shelters are still closed to the public, leaving them with very limited resources and forcing local rescues to step up big time. With in-person events put on pause, the TLRD Telethon Part CHEW is a way to bring joy to our rescue community, while raising the much needed funds to keep saving the dogs that need our help.
To donate, register, or sign-up for the Scavenger Showdown, please head to www.thelittlereddog.org. Don't forget to tune in to watch on July 11th at 5pm!