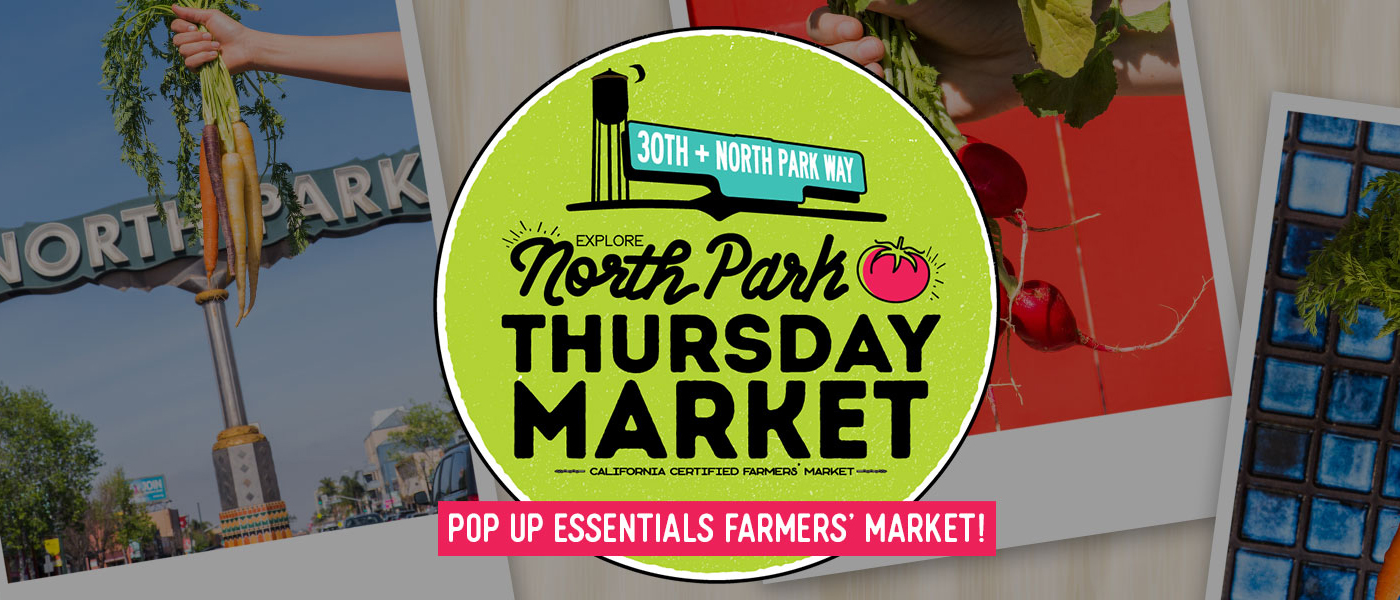 ---
Classified by the State of California as an essential food service, the North Park Thursday Market will be re-open with strict safety protocols in place on Thursday's from 3 pm to 6 pm. In compliance with state and local regulations our market will operate as a safe option for purchasing your essential grocery items. Farmers' Markets have been classified by Governor Gavin Newsom as an essential food service. Our team is prepared to take every precaution to ensure your safety. We ask that you come alone or be prepared to stand 6 feet away from your shopping partner while in line and while shopping. We will be enforcing social distancing with a full team of trained staff and volunteers. Please be prepared to pick up your items and head out quickly. We want you to enjoy your experience but make it quick!
Rules for the Market:
Please purchase items and return home, no consuming of goods at the Market.
Stay home if you're sick. Send someone to shop for you.
Cover Your face. We strongly encourage wearing a face covering and gloves.
Make a list so you can shop quickly and efficiently and minimize your time away from home.
Shop alone. One person out = one person in. Only 30 people are allowed in the market.
No pets. We do not have room. See #4.
Maintain 6-foot distancing in the market and in line from shoppers, vendors, and staff.
Point and purchase. Do not touch produce and products. Tell your farmer what you would like to purchase.
NO CONSUMPTION OF FOOD OR BEVERAGE. Please do not consume goods on site, enjoy at home.
use contactless payment when possible or exact change if paying with cash.
Wash your hands regularly. There are hand washing stations throughout the market for you to use.
Shop and go home. We're glad to see you but head home so someone else can shop!
Pop-up Essentials Farmers' Market | 3pm – 6pm
---
Featured Vendors
Fudge, lollipop's, gummies, other candies, tec.
Lynt face masks with pocket for filter
Hummus, dips and pita chips
Tamales
Organic green juice
Baked goods, breads, cookies and more
Flower bouquets
Bao Buns
Organic Fruits and Vegetables
Fresh kombucha
fresh Moroccan sausages and meat
Beer and Hand Sanitizer
CBD Creations
Microgreens
Citrus, eggs and Avocados
Citrus, vegetables
Chips & Salsa
Organic Citrus, Juices and Vegetables
Organic, fresh meats
Fresh salsa
Sticky Rice
Sprouted organic & gluten free baked goods and mixes and granola
Homemade Bread, Focaccia, Flat Bread and DIY Pizza