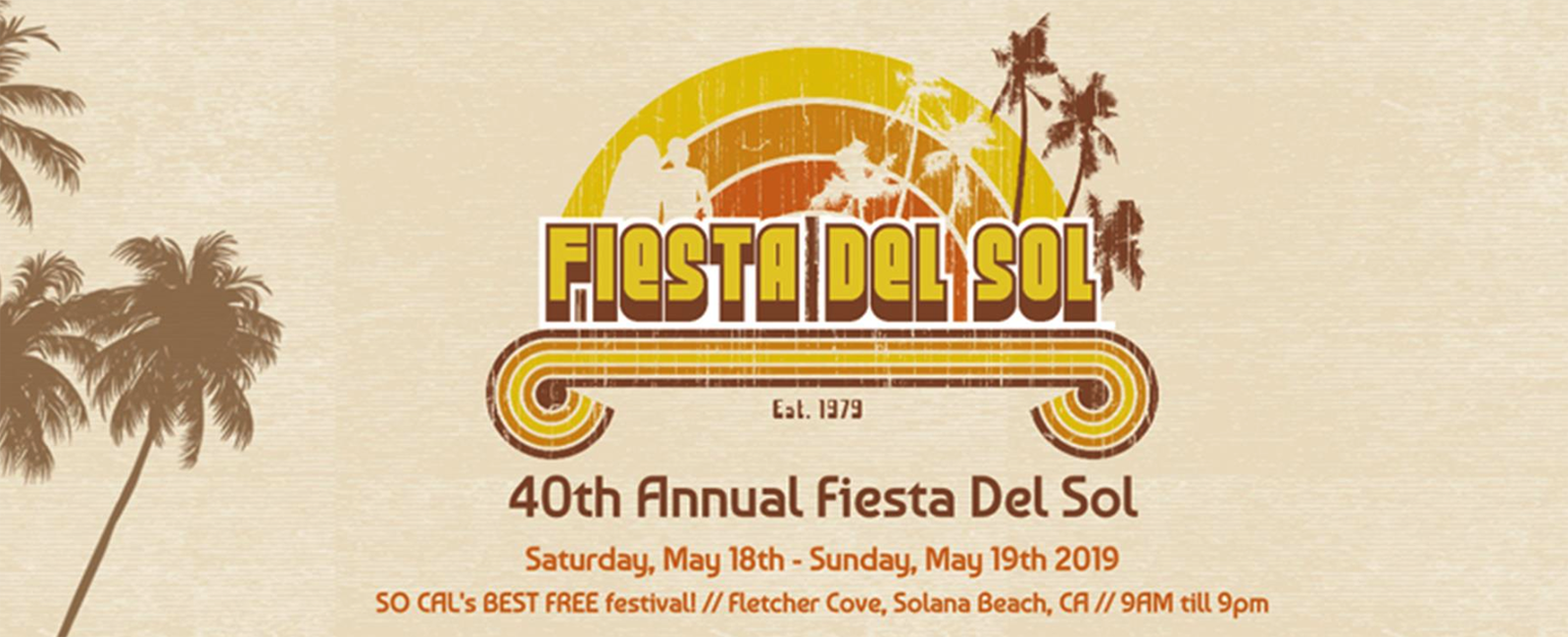 ---
The 40th Annual Fiesta del Sol will be on May 18th and 19th from 9AM to 9PM each day. The Solana Beach Chamber of Commerce has been hosting this FREE 2-day Arts & Music Festival for 40 years as a kick off to Summer in Solana Beach! The event takes place at Fletcher Cove. The Belly Up is lining up a great list of musicians to perform over the two day event, which includes local community talent. We also have a large, fun, and exciting Children's Area set up for families to enjoy rides, games, and a climbing wall. Just like last year, we have included the Cedros Design District and they will be celebrating on their street with bands and shopping specials during the weekend.
Fiesta del Sol has something for everyone. Food Trucks along with other great specialty food vendors will be back as well as our Arts & Crafts area, Sponsor area, Solana Beach Fireman's Pancake Breakfast on Sunday, and much more! We are also hosting a special place exclusively for local artists and local food vendors. The beer and wine gardens will be in their usual spots and the Lions Club will also be returning to serve in the wine garden and will be raising funds to support their local causes.
Who puts on the Fiesta del Sol?
The Fiesta del Sol is presented by the Solana Beach Chamber of Commerce in collaboration with the Belly Up and the City of Solana Beach.
Where is the Fiesta del Sol located?
The Fiesta del Sol takes place adjacent to Fletcher Cove in Solana Beach, California
What time does the Fiesta del Sol start?
The Fiesta del Sol opens each morning at 9am with the arts & crafts fair and closes each evening at 9pm after the conclusion of the last musical performance.
Is there an admission charge for the Fiesta del Sol?
The Fiesta del Sol is a FREE event.
How do I get to Fiesta del Sol?
Attendees are encouraged to come to Fiesta Del Sol by train (Amtrak/Coaster, bicycle (designated bicycle parking area is conveniently located at SD Electric Bike (Map); which is located at 101 S.Highway 101, walking, Bus (Bus Stop is adjacent to Fiesta del Sol Entrance) or by carpool. Plus a variety of designated parking areas with Shuttle Buses will be readily available to take you to the Fiesta. Parking Map
What type of music is featured at the Fiesta del Sol?
The Fiesta del Sol rocks Solana Beach with a diverse musical showcase providing continuous live music. The lineup is rich with rock, reggae, soul, funk, jazz, blues, Latin and worldbeat, to name a few, spanning cultures and countries from Africa to Brazil to the USA.
What types of activities are there for kids at the Fiesta del Sol?
The Fiesta del Sol features a special area just for kids with rides, games and hands-on activities. Bounce houses, arts & crafts and other fun activites are designed especially for children. The main stage showcases children's dance groups, musicians and martial arts exhibitions.
What are the food options at the Fiesta del Sol?
This year we will have Gourmet Food Trucks offering too many choices to list. Along with several food booths offering one-of-a-kind foods, sweets, coffee and much, much more!
Where do I park at the Fiesta del Sol?
Free parking with FREE SHUTTLE service is always available – Follow our parking signs and you will find plenty of parking