Dallas is a 2 year old, 35 pound male Corgi Mix.  It is thought he may have a little Basset Hound and Shiba Inu in him. He is so sweet and gets along with everyone.  He is afraid of cats. He is house trained, neutered, microchipped, and up to date on vaccines.  He was an owner surrender to a shelter because the family said they didn't have time for him anymore.  Poor guy needs a good and loving forever home.  He is very active and loves to play and go on walks, so he needs an active family.  He is in a foster home with 5 other dogs of all sizes, so he gets along with other dogs.  He pulls a little bit on the leash, but is easy to correct.  He loves to cuddle too!!!  He truly is a good boy!
Visit thelittlereddog.com to adopt Dallas, or any of our dogs. Please fill out an application on the website.  You can reach The Little Red Dog at 949-244-5382.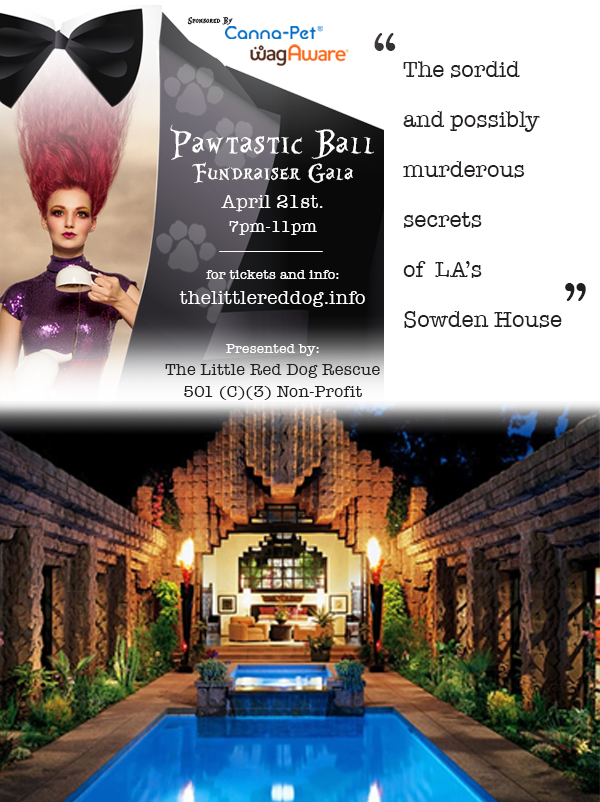 UPCOMING LITTLE RED DOG EVENT – Saturday, April 21st ! 
The Pawtastic Ball Benefiting The Little Red Dog
Follow The Little Red Dog down the Rabbit Hole to The Sowden House, designed and built by Lloyd Wright in 1926. This Mayan Temple in Los Feliz is the former home of the alleged Black Dahlia murderer. Here the doors will open up to our Pawtastic Ball, a Gala, blending live music, theatre, fashion, cosplay, magic, fine art and riveting shows. Delightful attractions include a photo booth, magician, live art, and artisan & couture vending, mystical and nonsensical oddities, specialty cocktails, alluring sideshows & activities. Dress to impress! Try your luck at the silent auction and raffle, and much more to benefit The Little Red Dog.
Get your tickets here: