Growing up, I remember my Dad frequently telling us how much he regretted selling his first car, a 1953 Studebaker.  If only he would have held on to it…today, it would be worth a fortune!  But more important than its monetary value would have been its sentimental value, and it would have been amazing to still have that beauty parked in the garage to take out for Sunday cruises or show off at car shows.
So when I bought my first car in 1992–a 1983 Oldsmobile Cutlass Supreme for $1300–I immediately made myself a promise that I would always keep it, no matter what.  It's 2015, and I still have it!  And you'll see it this weekend at Xavier The X-Man's 13th Annual Cruise for the Cause!
Here's a timeline of my baby…from 1992 until today!
1992:  I bought the car with some money I saved and a loan from my parents.  I bussed tables at a restaurant to pay off the loan, insurance, and lots and lots of repairs (seemed like everything was broken or broke within that first six months.)  I could afford no customization except a personalized license plate!
This is the first known picture of my Cutlass, taken in 1992 with stock rims and everything.  Plus the classic car show "pose" that everyone did back then!
1993:  My first custom "rims!"  I bought these Enkie rims for like $300, used, from a dude in my summer school class.  They weren't fancy, but instantly gave my car that lowrider "look."  I remember watching Discount Tire mount the wheels and when they lowered my car down off the lift, I was excited that the car sat "lower."  I soon switched to KMC rimes (pictured below), bought from a classmate.
By the way–my car did not have "switches" in this photo.  I simply used a car jack to jack up one side of the vehicle to "look" like I had hydraulics.  I was also known to put tons of river rocks in the trunk to "slam" down the back and make it look like I had switches.  I was such a poser!!!  But it looked cool, I swear!
1994:  My first set of "wire wheels!"  Back in the early '90s, if you have "wire" wheels, you were really rollin'!  I think these were like 15 x 10's or some odd size like that, but I got them for a good price and that's all that matters.  Even if when I went over a dip or bump my back wheel would lower down and actually "cut" into the tire!  I had to be so careful driving…and every time I went too fast over a dip I would hear the noise of the metal trim on the wheel well literally slicing into the tire because the wheels stuck out a little bit.  Also, here's that pose again!
1996:  I moved to Knoxville, TN in 1995 to take my first full-time radio job.  I spent six miserable months there at a station where no one liked me, no one listened to me, and I was dirt poor.  Plus, the giant "Blizzard of 1996" ripped through the state and left my baby stacked with ice and snow.  To make it worse–my heater had never worked in that car (didn't need it, I lived in Arizona) so driving to work in 10 degree temperatures was horrible.  I almost died.  Not really, but I hated it.
1997:  Thank the good Lord, I make it outta Tennessee and back to Arizona.  And I finally got my baby a paint job.  I wanted "patterns."  I told the paint shop to just be creative and do whatever they wanted.  Maybe I should've been more specific.  I didn't like the triangles.  But oh well.  The paint sparkled and it looked kinda cool.
1997:  I got stuck in a ditch.  Who drives a lowrider on sand anyway?  This guy!
2002:  My baby goes topless!  This was a big year for the Cutlass.  I found a guy in town who "removes" the roofs of cars.  My Cutty sat in his yard for what seems like years.  I still have realistic, recurring dreams that I never got my car back from him!  But I eventually did…and it came out great!
I also got "knock-off" wire wheels.  "Knock-offs" are different than traditional wheels in that they are not attached by lug nuts.  Instead, they are literally "twisted" on and tightened with a tool.  It looks super cool, but I have also heard horror stories of those wheels "flying off" while driving.  Yikes!
Oh, and I also got a new paint job.  Goodbye triangles!
2013:  In 2013 it finally happened!  I removed the rocks from my trunk and got switches for real!  I got hooked up with Mike Bello over at Bello Rods and Customs in Chula Vista and he made my lowrider official.  He installed airbags, not hydraulics, that allowed me to lower and raise my ride.  I'm legit now!  Look at that baby lay low!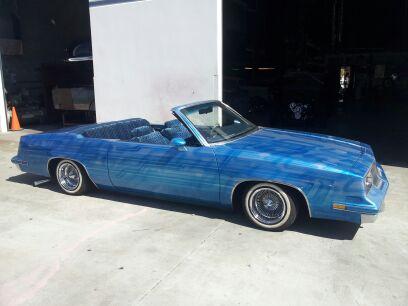 2014:  I finally replaced the originally (and tore up) carpet in my Cutlass and did a little interior work.  Shout out to Quality Auto Upholstery.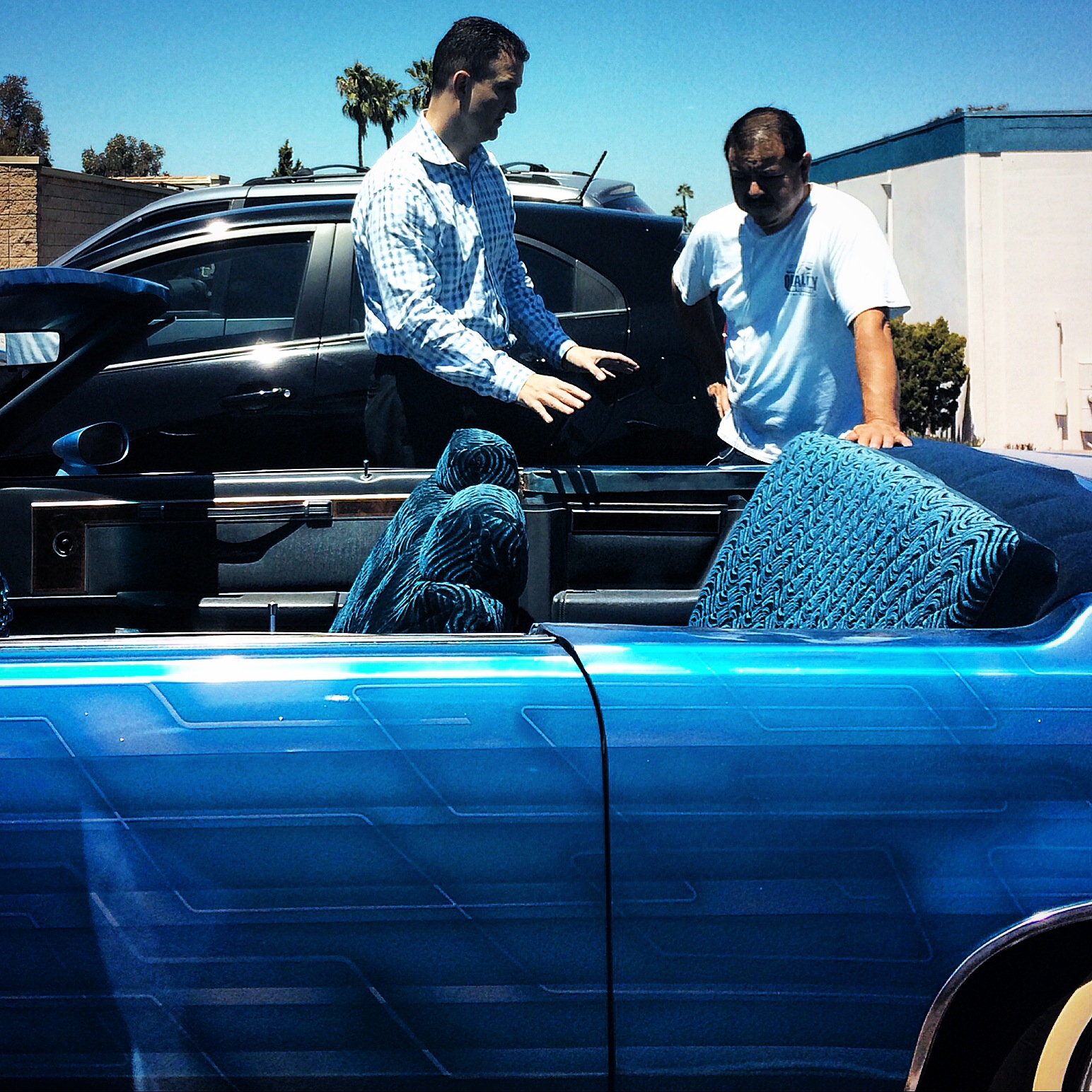 2015:  Here she is!  I'm looking forward to taking her out to Xavier The-Man's 13th Annual Cruise for the Cause, this Saturday at Qualcomm Stadium.  Please come out and say hello, I'd love to meet you!  And we can take a picture with my car…or yours!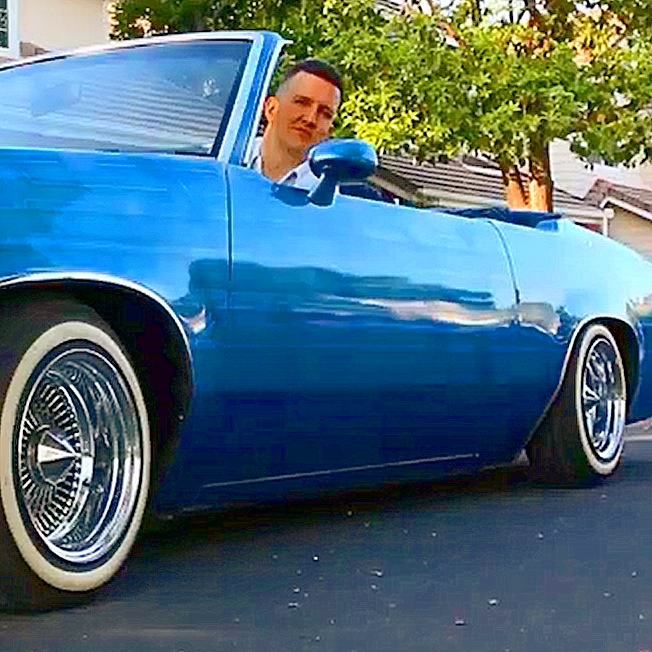 Still to come:  It is my dream to one day have this car fully customized–enough to actually "compete" in car shows.
I would love any recommendations you have for places in Southern California or Baja California (Tijuana, etc.) that do quality work.
In the near future I would still like to do the following:
1)  New custom paint job.  I mean some really intricate patterns and tons of striping and big flakes.  NEED RECOMMENDATIONS PLEASE!
2)  Upholstery.  I wanna go full-on tuck and roll, boat/swivel seats, mirrors, wine buckets, etc.  NEED RECOMMENDATIONS PLEASE!
3)  Chrome it out!  NEED RECOMMENDATIONS PLEASE!
And maybe, possibly do some custom stuff with the way the doors open, etc.
If you can recommend any great shops here in the area, please email me at: rdub@www.magic925.com
Thanks, and I'll see you at Cruise for the Cause!
R Dub!
Afternoons – Magic 92.5FM